Russellville School District will be dismissing 90 minutes early on Monday, February 19, 2018, for Parent/Teacher Conferences at Russellville High School and Russellville Junior High School. Last week, RHS and RJHS held Student Success/College and Career Readiness Conferences instead of Parent/Teacher Conferences. This early dismissal will allow teachers to prepare for these conferences.
Spring portraits and class pictures will be taken on Friday, Feb. 16th. UE5G students will attend the Good Manners Tea on Friday. Please disregard the district calendar. The date was changed to Friday, 2-16-18.

RSD will hold Parent/Teacher Conferences on Monday, February 12 from 1 to 7 p.m. for RMS and on Tuesday, February 13 from 1 to 7 p.m. for Kindergarten-5th grades. RHS and RJHS will hold Student Success/College and Career Readiness Conferences on Monday, Feb 12 from 1-7 p.m. There will be no school on Monday, Feb 12 and Tuesday, Feb 13 due to teacher professional development and P/T Conferences. Classes will resume on Wednesday
5th Graders who wish to sign up for 6th grade choir need to attend Choir Sign-ups on Monday, January 29th at 6:30 p.m. in the RMS Choir Room. Students should be accompanied by an adult.

Russellville School District invites parents and the community to a Project Lead the Way (PLTW) Showcase on Wednesday, January 31, beginning at 8 a.m. at the Center for the Arts. Those interested in attending can register online at
http://bit.ly/RSDPLTW
, or contact Judy Pennington, secondary curriculum director, at
judy.pennington@russellvilleschools.net
or 479-967-6051.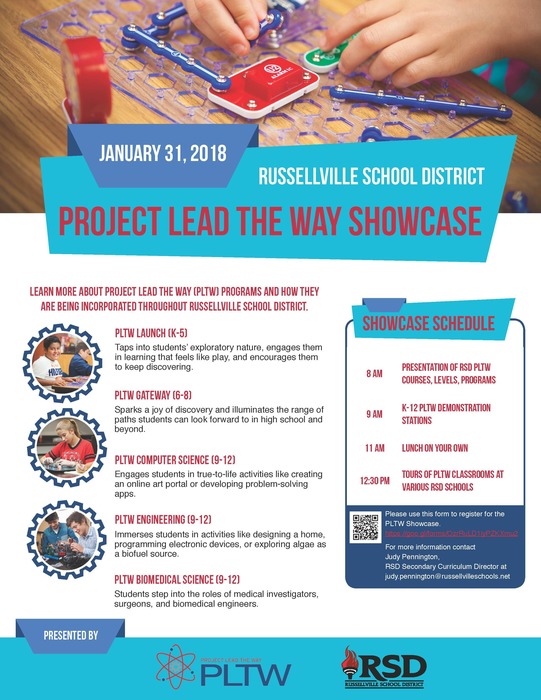 Spring Portraits will be taken on Friday, Feb. 16th. All orders are prepaid. Bring your smile! :)
Band Tryouts for 5th graders are Jan. 30th for Groups A/B and Feb. 1st for Groups C/D in the RMS Band Room between 3:45-7:00 p.m. Students must be accompanied by an adult to the tryouts.

January is School Board Member Recognition Month, and RSD would like to thank the seven school board members who advocate and shape the direction of our school district. Members of the RSD School Board include Morgan Barrett, Chris Cloud, Breanne Davis, Allan George, Jami Mullen, Jeff Phillips, and Wesley White.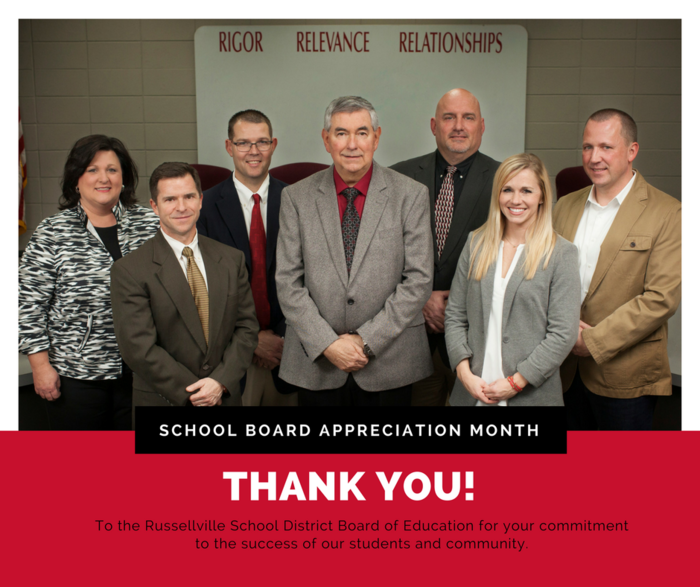 UE5G will host parent/teacher conferences from 1:00-7:00 p.m. in our cafeteria on Monday, October 23rd. We look forward to seeing our fifth grade families!
School pictures are tomorrow, Oct. 4th. All orders must be prepaid. Please bring your smile to school on Wednesday!

The Child Nutrition Department would like to remind parents that a new application must be filled out each year to qualify for free and reduced meals. If you have not filled one out for the 2017-18 school year please fill one out as soon as possible. You can complete an application online at
http://russellvillesd.nlappscloud.com
or obtain a paper copy from your child's school.
UE5G invites you to Open House on Tuesday, September 5th. Please join us in our cafeteria at 6:00 p.m.to hear important information to help your child have a great 5th grade year.